MembershipMovement.org
Strategic Biblical Movements
"We GATHER in Large and Small Groups, and GIVE through Ministry and Mission."
1 Corinthians: "To the Church"
1 Corinthians 1:1-3 | "Called To Be Saints." When we introduce ourselves to others, how long does it take to mention Jesus? In the introduction to the letter known as 1 Corinthians, Paul gets right to the point and says more about God than he says about himself. 1 Corinthians is a letter written to a specific audience - "the church of God" and great detail is given in these opening verses to explain just who that Church is. This letter was written not only to the saints in first-century Corinth but also to us, "who in every place call upon the name of our Lord Jesus Christ."
As a body of members, we move together through a simple, prioritized process called THE MEMBERSHIP MOVEMENT. This movement guides the church by GATHERING in Large & Small Groups (Inflow) and GIVING through Ministry & Mission (Outflow).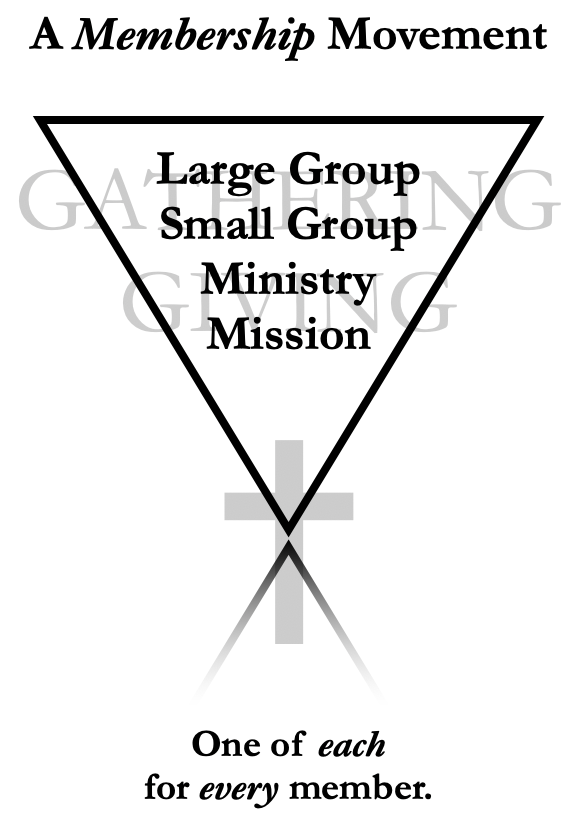 GATHERING IN LARGE & SMALL GROUPS
"Let us hold fast the confession of our hope without wavering, for he who promised is faithful. And let us consider how to stir up one another to love and good works, not neglecting to meet together, as is the habit of some, but encouraging one another, and all the more as you see the Day drawing near."
(Hebrews 10:23-25, ESV)
LARGE GROUP
Step 1
Gathering in Large Groups. Large Group gatherings are the assembling of all the saints in a local church for the worship of God. This is the CONGREGATIONAL gathering of the church simultaneously, in the same place, and for the same purposes.
We gather on the Lord's Day, in the Lord's name (the name of Jesus Christ) to hear God's Word proclaimed through preaching and song and to witness God's Word demonstrated through Communion, Baptism, and through corporate obedience to the faith that was once for all delivered for the saints.
Large Group gatherings begin The Membership Movement process with the easiest, broadest step! All members and guests who seek to worship the Lord are welcome to gather in a Large Group.
Online gatherings are offered as an extension of our Sanctuary doors into the homes and dwelling places of those in need. This means of gathering aims to remove barriers for those providentially hindered from attending the worship of God in the Sanctuary. Care has been given to create meaningful ways to go beyond watching only but also participate online. If online gathering helps you, use with caution, pastoral supervision, and care.
Members of Southside Baptist Church covenant to willingly and faithfully GATHER
...with the saints for the worship of God.
SMALL GROUPS
Step 2
Gathering in Small Groups. Jesus showed that a small group is a valuable (and arguably, necessary) means of discipleship. Small groups are smaller gatherings in which the Large Group CONGREGATION becomes a Small Group COMMUNITY.
Small Groups put into action the answer to this question:
What can I do in a Small Group that I cannot do in a Large Group effectively?
Small Groups Care for one another.
Small Groups Fellowship.
Small Groups partner in Prayer.
Small Groups encourage Application.
Small Groups make Disciples.
Small Groups are "Ministry Incubators."
Small Groups are Mission Teams.
Members of Southside Baptist Church covenant to willingly and faithfully GATHER
...with a Southside Small Group for accountability, discipleship, and investment in the Christian community.
Are you interested in being a Small Group Leader? View the Small Group Leader Ministry Mobilizer.
GIVING THROUGH MINISTRY & MISSION
"The point is this: whoever sows sparingly will also reap sparingly, and whoever sows bountifully will also reap bountifully. Each one must give as he has decided in his heart, not reluctantly or under compulsion, for God loves a cheerful giver. And God is able to make all grace abound to you, so that having all sufficiency in all things at all times, you may abound in every good work."
(2 Corinthians 9:6-8, ESV)
MINISTRY
Step 3
Giving through Ministry. Ministry is a service performed by the saints with an INWARD focus on building up the body of Christ, one to another, and mutually strengthening the church's faith.
Members of Southside Baptist Church covenant to willingly and faithfully GIVE:
...to the church through the discovery, confirmation, and exercise of the Holy Spirit's gift to me for the common good.
...unto the Lord the tithes and offerings that belong to Him as an act of worship, gratitude, and means of God's provision for the gospel's advancement through the local church.
...of time, resources, and prayers to build up the body of Christ and help brothers and sisters in need.
...encouragement to one another, promoting the peace of Christ and maintaining unity in the body by resolving disagreements within the church as instructed in God's Word.
Ready for Ministry? Visit Southside's Ministry Mobilizers.
MISSION
Step 4
Giving through Mission. Mission is a service performed by the saints with an OUTWARD focus on reaching the lost through gospel witness, participation, and proclamation.
Mission includes praying, testifying, partnering, giving, and going! It encompasses all that fulfills the Great Commission work of making disciples as the saints go, baptize and teach obedience to the commands of Christ (Matthew 28:18-20) under the oversight of the local church.
Members of Southside Baptist Church covenant to willingly and faithfully GIVE
...the gospel to the lost by being a witness for Jesus in every possible way, including a life of obedience to God's revealed Word.
Movement is assumed in the Great Commission (Matthew 28:16-20). When the Church as one body goes out on mission, exercising spiritual gifts and service in ministry to build up the saints and evangelize the lost, then small groups are formed that become larger groups of disciples.