Eric Albright, Pastor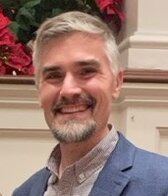 Eric was born and raised in Decatur, AL. He and his wife, Pam have been married since 2006 and have two daughters, Avery and Caroline. Before coming to Southside in November of 2022, Eric served for seventeen years as a pastor of Trinity Baptist Church in Trinity, AL. He enjoys running, reading, coffee, and spending time with family and friends.
Eric holds a bachelor's degree from William Carey University, master's degrees from Luther Rice Seminary and Southwestern Baptist Theological Seminary, and a Doctorate of Ministry from Carolina University. He is also a Bible teacher at Decatur Heritage Christian Academy.